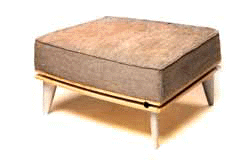 More information about Four Seasons / Address
Beyond furniture. Beyond decoration.

BombaZurra. The design line created
by Béatrice R. Zurlinden.

Objets d'art for your home. Exceptional, unique, sensuous. Each piece is part of
a fantasy that stimulates your imagination and fulfills your desires.

BombaZurra creations are multi-
functional. They adapt themselves to your needs, fitting together like pieces of a carefully crafted puzzle.